Chaplaincy Team 
Congratulations to the following pupils who were selected for this years school chaplaincy team:
Abbie, Kathryn, Elise, Anna, Mia, Sofia, Sophia and Isabel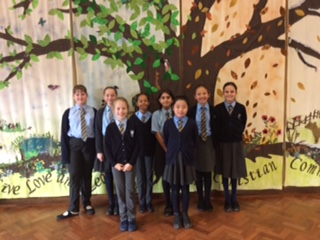 The whole team are involved in promoting the Monday Mission.
The Chaplaincy team have recently visited the Bishop's Stortford Food Bank to find out how our school can best support the organisation this term.
Our school was one of the very first schools to become an official friend of the Food Bank and we have always been generous in our giving. We know that our generous giving will make a huge difference to the lives of people.
Our visit highlighted the real need of this service to the community and how some of the people who call upon the service of the Food Bank might be in between jobs or experiencing a glitch in their regular pay leaving them vulnerable. The Food Bank is there not only to provide food but also to sign post people to receive the advice and support from other services too.
Two main requests struck our team and they were toiletries, as everyone should have the dignity of being clean as well as fed and that the food that is dispensed is packed into shopping bags so that protects people from the potentially embarrassing situation of others noticing their situation. When they are given the bag they look like any other shopper.
The Chaplaincy team organised a collection of these items. Each class was invited to bring in specific things to support this initiative.
We collected an amazing selection of items which will greatly aid the lives and situations of others.
A huge thank you to everyone who generously donated to the Bishop's Stortford Food Bank.